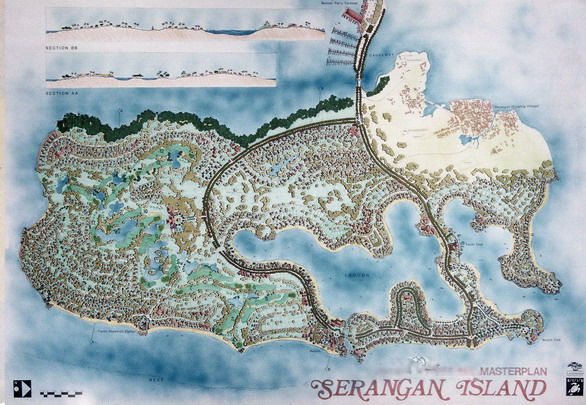 _______________________________________________________________________________________
Serangan-Island-Final Concept
_______________________________________________________________________________________
Involvement:
Engaged as master planners and landscape architects, working with a large team of international consultants with the project being administered out of Jakarta.
Serangan Island, Bali, Indonesia (1992-1993). Land use and development master plan preparation and landscape architectural design guidelines. Awarded two separate commissions; land use planning and landscape architecture. This project was a 480 Ha., planned residential resort community including a variety of housing types, golf course, hotels, marina and infrastructure development. This project involved extensive landscape analysis and integration of consultant information such as anthropologists, a team of tropical marine and terrestrial ecologists, marine and civil engineers and real estate marketing consultants, to name a few, in developing plan options. The concept underpinning the design was to reflect in a contemporary fashion Balinese design traditions in the design. Land reclamation work worth in excess of 80 million dollars (US) was undertaken according to the master plan.
Details:
Master planned golf resort development located on reclaimed section of foreshore land. Development included resort hotels, two championship golf courses, marina and residential precincts.